Webinar Recording 
To complete the post-webinar survey

Webinar Details
President Joe Biden laid out his two-step Build Back Better recovery plan and recognized small businesses as engines of our economic growth and the glue that holds communities together. Mobilizing small businesses will help get communities vaccinated faster, save lives, and help Americans put the pandemic behind them. During President Biden's remarks he highlighted the importance and his priority of creating an environment of equity from both a health and economic standpoint in order to stabilize our country. This webinar will provide you with information and insights you can share with your communities and organizations including:
Understanding the science behind vaccine and Vaccine Task Force

Creating the right message about the vaccine,

Addressing vaccine hesitancy in communities of color and

Accessing resources for small business.
In recognition and celebration of Black History Month, join our distinguished panel for an informative and engaging webinar. The webinar is being sponsored by ASHLIN Management Group in collaboration with the CDC Foundation. ASHLIN Management Group is a woman-owned small business supporting public health awareness and training programs for over two decades.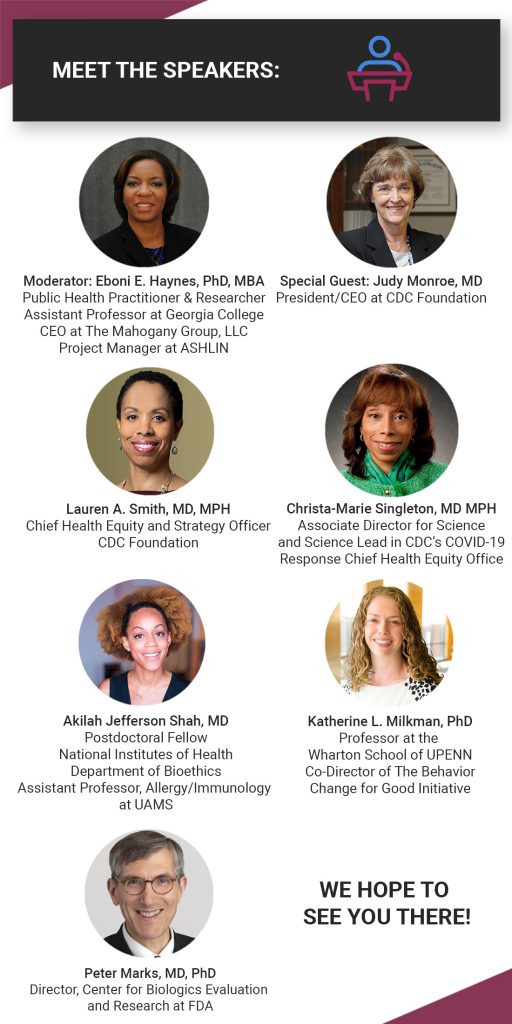 Webinar Resources
Essential Workers COVID-19 Vaccine Toolkit
https://www.cdc.gov/coronavirus/2019-ncov/vaccines/toolkits/essential-workers.html
CDC Worksite Health ScoreCard
https://www.cdc.gov/workplacehealthpromotion/initiatives/healthscorecard/index.html
Small Business Administration
https://www.sba.gov/page/coronavirus-covid-19-small-business-guidance-loan-resources
Centers for Disease Control and Prevention (CDC)
https://www.cdc.gov/coronavirus/2019-ncov/downloads/guidance-small-business.pdf
Visualize your Data with ASHLIN's CompassBI® Solution
https://www.ashlininc.com/solutions/compassbi/
Metro Atlanta Chamber- ATL Action for Racial Equity
https://www.metroatlantachamber.com/atl-action-for-racial-equity
Small Business Guide to CARES Act
Small Business Guide to CARES Act (PDF)
Data in Motion – Johns Hopkins University
Johns Hopkins Q&A
https://www.jhsph.edu/covid-19/questions-and-answers/#disparities
Increased vaccine supply announcement
https://www.whitehouse.gov/briefing-room/statements-releases/2021/02/02/fact-sheet-president-biden-announces-increased-vaccine-supply-initial-launch-of-the-federal-retail-pharmacy-program-and-expansion-of-fema-reimbursement-to-states/